BATON - 1 ad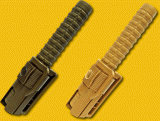 Tuesday, February 09, 2010
W produce Police Expandable Batons in lenghts 16", 21" as NON-hardened and in lenghts 16", 18", 21", 26" as HARDENED. we can delivery to expandable batons also more accesories. Classical colours are black or silver. Recently as the first in the world, we have started to make expandable...
344 01 - DOMAZLICE
+420 379794211
+420 775253957
Help on search
The search engine doses not care about the case of your text. [ cats dogs ] will search pages talking of cats and dogs in the same page.
The double quotes (") allow you to search an exact phrase, respecting all caracters including spaces.
The MINUS (-) forbids a word, eg [ dogs -cats ] returns all pages with dogs but no cats inside the text. you can add a MINUS (-) before a sentence with double quotes ("), like -"white cats".