Equipment goods
ZHRS200A heat shrink tube heating machine Heat shrinkable tube heater

Price : 1180 dollars
ZHRS200A,A one side heat shrinkable tube heater with intelligent temperature adjustment (intelligent digital temperature control, use a liquid crystal screen to display the working state, independent control system) is suitable for heating shrinkage of heat shrinkable tubes in wire harness processing enterprises, adjusting temperature according to the requirements of the production process, contraction time is short,can heat shrinkable tubes for any length, can work continuously for 24 hours without interruption, there is an omni-directional reflective thermal material in it, so that the heat shrink pipe is heated evenly.
Apply to:
Connection and contraction of PE heat shrinkable tube, PVC heat shrinkable tube and double wall heat shrinkable tube with glue.

Thermal shrinkage of PVC pipe.
Thermal contraction of capacitors, batteries, wire terminals, heat shrinkable sleeves / membranes, etc.
Characteristics:
Equipment composition
Transmission system + heating system + control system
Heat insulation design of heating zone
The shell of the heating area is designed with double layer heat insulation, which makes the inside and outside temperature separate, that is to save energy and protect the working environment.
Omni-directional heat reflecting inner wall
The heat reflecting inner wall in the heating box ensures the uniform heating effect of the heating.
Adjustable Import and export height
The conveyor belt heating box is completely closed, the input and output end of the heating box has a sliding door that can rise and fall, effectively prevent the heat source from leakage, protect the working environment, energy conservation, and increase the machine's ability to use one machine in many different jobs.
Adjustable infrared heating pipe height
The infrared heating tube can adjust the height quickly. Ensure repeatability of distance between light source and conveyor belt.
Intelligent control system
LCD
Deviced friendly man-machine interface, menu operation of liquid crystal Chinese characters,simple and convenient manipulation,Real-time display of work status.
Open machine presupposition function
The machine can set the output temperature, the working time, etc.
Intelligent power regulation
According to the seted up temperature, the heating system intelligently recognizes the output power, and the output is stable.
Temperature control system
The power output is controlled by digital stepless mediation, the temperature is controlled, the output is stable, and the precision of temperature control is 2.
Parameter memory function
The power, the temperature, the working hours and other parameters of the hot air fan have memory function.
classification

Item

parameter

Size

Overall machine size(L×W×H)

1000×460×465mm

Control power(L×W×H)

200×150×200mm

Heating area(L×W)

520×460mm

Belt width

200mm

Maximum transmission width

250mm

Maximum transmission height

100mm(Adjustable)

Conveyor belt

Material quality

Teflon

Speed

0.5~3m/min

The power of motor

25W(Stepless speed regulation)

Heating pipe

Heating pipe name

Infrared heating tube

Heating pipe power

300W,6 branches

Heating direction

Top down, single side heating

Temperature

Temp Accuracy

±2℃

Maximum temperature

>200℃

Power Supply

Power demand

220V Two items

Power

1860W
Location :
No. 320 Development Street, Qingyuan District, Baoding City, Hebei Province, China, 071100 Baoding City
,
Contact :
ying shao
,
+863128016369
Good deal: buying from seller
Visit our guide for a secure transaction! Under no circumstances Destockplus.co.uk can be held responsible for the content of the ads published. Only the sellers and buyers responsability is involved in case of dispute.
We invite you to read our terms of use. You can also visit our
FAQ
section and see our information section on the risks associated with counterfeiting.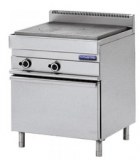 Sunday, October 31, 2010
Quantity : 2 - Price : 1371,18£
Product code: 6570TPFG Weight: 109kg Dimensions: 700mm x 650mm x 850mm Burners: 1x 8,2 kW Oven GN / dimension: 530 • 540 • 280 mm Oven gas static: 5,0 kW Power total gas: 13,2 kW output burners in cast iron and brass. Enamelled steel removable drip trays, for ease of cleaning...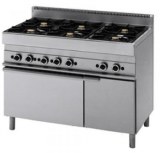 Sunday, October 31, 2010
Quantity : 1 - Price : 1656,96£
Product code: 80050786 Weight: 124kg Dimensions: 1100mm x 650mm x 850mm Power total: 30,8 kW Burners power: 3x 3,6 kW/3x 5 kW Oven gas static: 5 kW Gas oven GN/ dimension: 530X340X280 mm Oven rack supplied: 1 The flexibility of great performance reliable, ergonomic and complete are...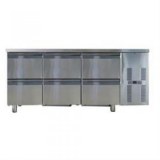 Wednesday, November 03, 2010
Quantity : 1 - Price : 2373,25£
Product code: 5615059 Weight: 150kg Dimensions: 1880mm x 700mm x 850mm Phases: 1 HZ: 50 Power: 230V – 380 W - without back splash - with 6 drawers - doors with automatic closure - ventilated refrigeration, temp. -2/+8°C - electronic control with digital display - with automatic...