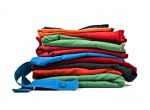 Clothes - Destocking Clothing
383 ads
This section concerning the sales of textiles of all the types of clothes for people of all ages. From shirts to trousers, from jeans to blouse. You'll also find a large selection of underwear including: panties, string, boxers, shorts... Clothing suppliers come from all over the world that you'll find the latest clothing collection in the category for the first time.
| | | | | |
| --- | --- | --- | --- | --- |
| | Rating | Retail | Retail wholesale | Wholesale |
If you are a professional, you can also discover our marketplace Destockplus.co.uk: Destocking / Stock clearance.
This is the type of products you can find in the category Clothes :
Find every ads of every professionals Clothes.