KITCHENWARE - 1 ad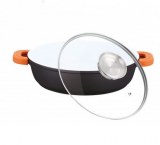 Sunday, July 26, 2020
Price : 23,00 €
Herzog HR-CALC401CR; Aluminium Casserole, ceramic covering 40 cm 8.5L​ - Aluminium Casserole - Long lasting and durable aluminium - Ceramic covering - Clear glass lid - Suitable for all cooking sources including induction stoves - 40 cm - 8.5L Nos prix sont indiqués en HT et soumis à TVA 20% Color : Red,Orange Location : Rue Brogniez 48, 1070 Brussels, Contact : Alon Papismedov...
1070 - Brussels
+32 4 85 44 80 85
Help on search
The search engine doses not care about the case of your text. [ cats dogs ] will search pages talking of cats and dogs in the same page.
The double quotes (") allow you to search an exact phrase, respecting all caracters including spaces.
The MINUS (-) forbids a word, eg [ dogs -cats ] returns all pages with dogs but no cats inside the text. you can add a MINUS (-) before a sentence with double quotes ("), like -"white cats".