LINE108 - 1 ad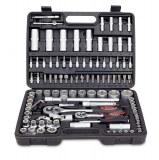 Sunday, December 01, 2019
Price : 34,00 €
Kraftroyal Line 108-Socket: 108PCS Socket Set The Kraft Royal Line 108 Pieces Tool kit is a professional quality mechanics tools set which is designed for a various repair job and offers a number of features and conveniences. Made to last a lifetime, the heads and nozzles are made from a high-quality chrome vanadium steel. These pieces have knurled precision rings that provide a...
1070 - Brussels
+32 4 85 44 80 85
Help on search
The search engine doses not care about the case of your text. [ cats dogs ] will search pages talking of cats and dogs in the same page.
The double quotes (") allow you to search an exact phrase, respecting all caracters including spaces.
The MINUS (-) forbids a word, eg [ dogs -cats ] returns all pages with dogs but no cats inside the text. you can add a MINUS (-) before a sentence with double quotes ("), like -"white cats".