FOLDER - 1 ad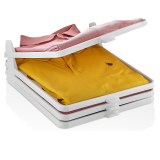 Sunday, October 17, 2021
Price : 4,95 €
Herzberg HG-L659: Closet Organizer & Shirt Folder Easy-to-use clothing organization system A durable travel organizer is made of wrinkle-free travel. A thin and flexible tiny shelf is created by interlocking dividers. Stack your clothes in an orderly and accessible manner. Minimal creases and the shape of your clothes should be avoided. You'll have no trouble finding what you...
1070 - Brussels
+32 4 85 44 80 85
Help on search
The search engine doses not care about the case of your text. [ cats dogs ] will search pages talking of cats and dogs in the same page.
The double quotes (") allow you to search an exact phrase, respecting all caracters including spaces.
The MINUS (-) forbids a word, eg [ dogs -cats ] returns all pages with dogs but no cats inside the text. you can add a MINUS (-) before a sentence with double quotes ("), like -"white cats".